EU Contact Centre & Customer Service Awards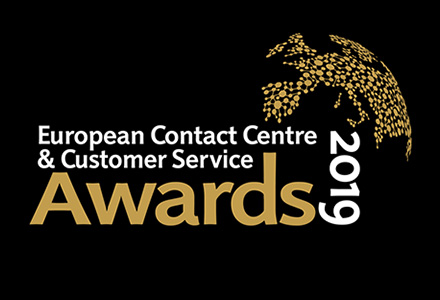 Costa del Sol-based company AnyTech365 applied for the following three categories; Best Fight Against Fraud
Initiative, Best Multi-Lingual Contact Centre and Contact Centre of the Year. In all three categories we were announced finalists.
ANYTECH365 ARE FINALISTS IN THE EUROPEAN CONTACT CENTRE & CUSTOMER SERVICE AWARDS (ECCCSA) 2019
We are proud to announce that AnyTech365 have been shortlisted as finalists for The European Contact Centre and Customer Service Awards (ECCCSA) 2019.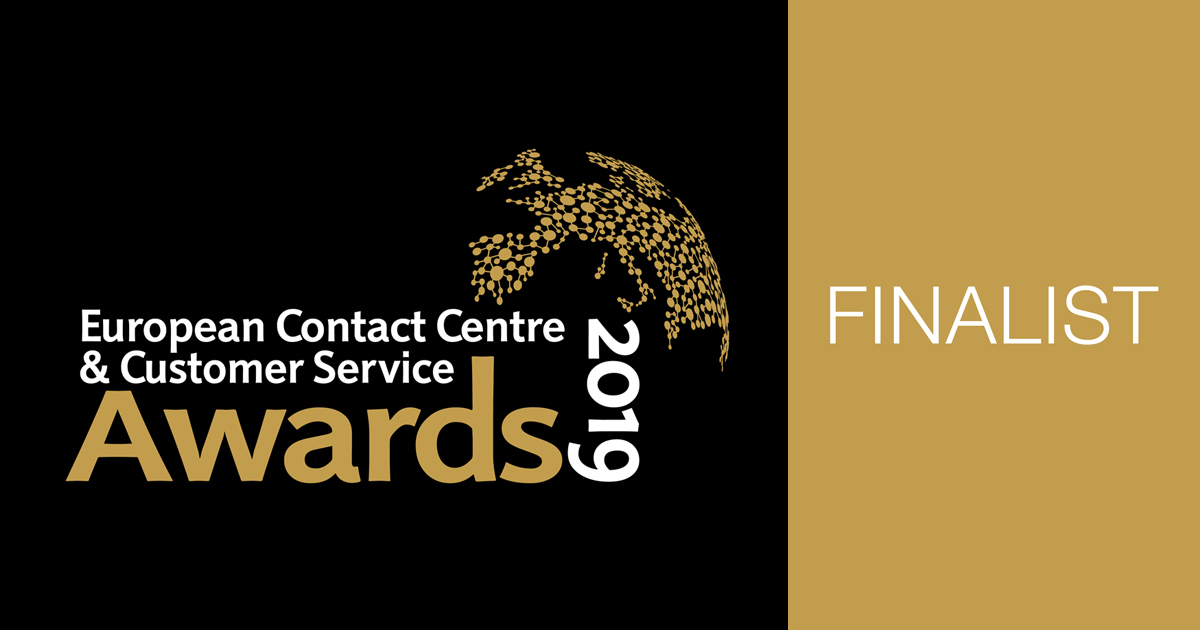 "At AnyTech365 we are very excited to be amongst the finalists in all categories we applied for and we
are very much looking forward to the Awards Evening in London"
AnyTech365 CEO Janus Nielsen.
We applied for;
Best Fight Against Fraud Initiative
Best Multi-Lingual Contact Centre
Contact Centre of the Year
The ECCCSA are the most prominent awards in the customer contact industry. Big companies like Vodafone, Expedia Group,
Panasonic Europe or Microsoft applied for the awards.
With a 21% increase in nominations this year and entries from 24 countries, the judges have had a tough time considering them all to identify the Finalists, said AnnMarie Stagg, Chair of the Judges and CEO at the Call Centre
Management Association (CCMA) in the UK. "We have assessed each entry against the criteria and are now very excited to meet all the Finalists to hear their stories in more detail. There are some truly exceptional teams and projects out there – we just need to see it first-hand now. The next stage of the process will give the judges an opportunity to explore each entry either by visiting the operation or meeting with the Finalists during their presentation to a judging panel."
Between the winners 2018 were Microsoft, Booking.com and Teleperformance Greece.
As the longest running and largest awards programme in the customer contact industry, the European Contact Centre and Customer Service Awards (ECCCSAs) recognise organisations across Europe that are leading the way in delivering exceptional service to customers.
Highly regarded for its robust judging process, the ECCCSAs award organisations that value their people, continually innovate to improve the customer experience, and operate efficiently and effectively. Being an ECCCSA winner is a prestigious accolade that has proven to raise the profile of the contact centre operation, its capabilities and its stars.
The winners will be revealed on November 26th 2019 at Evolution in London's Battersea Park in front of over 1.200
industry professionals from across Europe.
To see all the finalists in The European Contact Center & Customer Service Awards (ECCCSA) nominations, visit www.ecccsa.com/2019-finalists.
Watch some #ECCCSA19 judges tell us what they're looking for in a winner. Note: Sound is muted by default
The nominees for our categories are;
Best Fight Against Fraud Initiative
AnyTech365
Assurant
Microsoft
Sberbank
Shop Direct
Three UK and Tech Mahindra Business Services
Pindrop
Large Contact Centre of the Year
AnyTech365
NewDay
Expedia Group
HSBC UK
EE Merthyr
Sykes Global
BGL Group
Sberbank
Best Multi-Lingual Contact Centre
AnyTech365
Burberry
DDC Outsourcing Solutions
Expedia
Paddy Power Betfair
ServiceSource
Sitel Group – Sitel Sofia, Bulgaria
Teleperformance Greece
Update: Fri Sept. 20th
Chief Compliance Officer Georgi Medzhidiliev and Project Manager Marlie Bartelink went to London to give a presentation about our company to ECCCSA (European Contact Centre & Customer Service Awards) judges, this time it was for "Best Fight Against Fraud Initiative" category, the next presentation will be on October 4th at which time we will be presenting for the "Best Multi-Lingual Contact Center" category.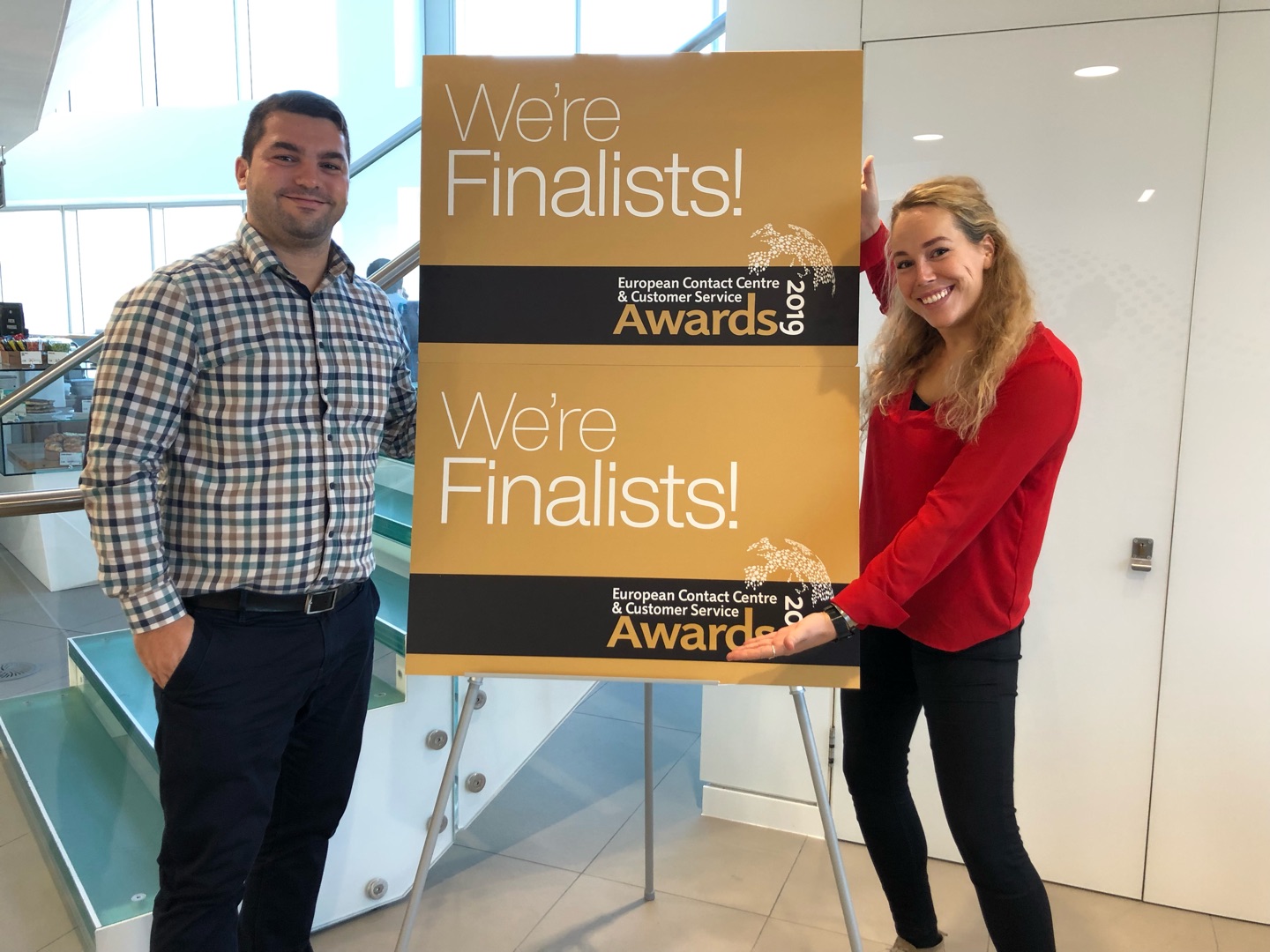 They were welcomed and given the opportunity to look around to see the great view on the 19th floor on Blackfriars. While looking at the sights of this beautiful city, the last preparations were done. Jackie Pringle, Head of Awards at the ECCCSA, then called them and accompanied them to the room where the presentation was held.
One of the judges had been to Málaga the weekend before, what a lovely coincidence.
There were three judges present. Simon Brown welcomed our representatives and congratulated them for being a finalist, saying that this was already an amazing achievement.
The presentation on why AnyTech365 should win this award had started: Georgi and Marlie started off with an industry overview, a company overview with a timeline of the last 5 years, the initiative against fraud was explained and the impact it had on the customers, employees, partners and company. After this judges had time to ask questions. Good questions were asked. but the AnyTech365 team was prepared.
After this intense morning our representatives had some time to enjoy London before their flight brought them back to Spain. They saw the Big Ben, Westminster Abbey, London Eye, Buckingham Palace, the traditional phone booths, taxis and buses. After the sight seeing it was time to say goodbye to London for now.
On November 26th AnyTech365 will attend the award show in London, where more than 1200 industry professionals will be present to see who have won the prestigious awards. But first they will be back in London to give the presentation for the "Best Multi-Lingual Contact Centre" award on October 4th.
You may also like to read: Quality assurance and compliance at AnyTech365