Innehållet är för tillfället bara tillgängligt på engelska
Private videos leaked by Google Takeout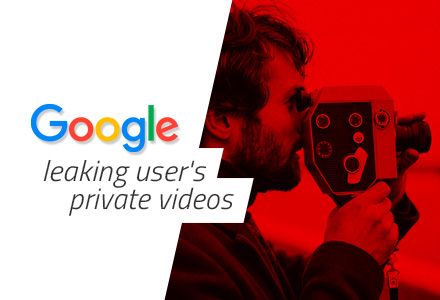 As stated by Google "Google Takeout LEAKED users' private videos".
Google says "one or more videos" of "less than 0.01 percent of Google Photos users" were shared with strangers.
With more then a billion user of the app it is still about 100.000 people.
Google told users that it might've accidentally imported your personal videos into another Google user's account. Oops!
Google says that people who requested an export of their data may have had their content accidentally sent to other people who performed the same request – essentially a mix-up in the way Google segregates individual users' accounts and cloud storage.
How did private videos get leaked?
The message,
Originally highlighted on Twitter by one Jon Oberheide,
begins with Google saying, "We are writing to inform you of a technical issue that affected the Google 'Download your data' service for Google Photos between November 21, 2019 and November 25, 2019, when it was fixed." Both videos did get leaked by Google Takeout.
Here's the complete email message: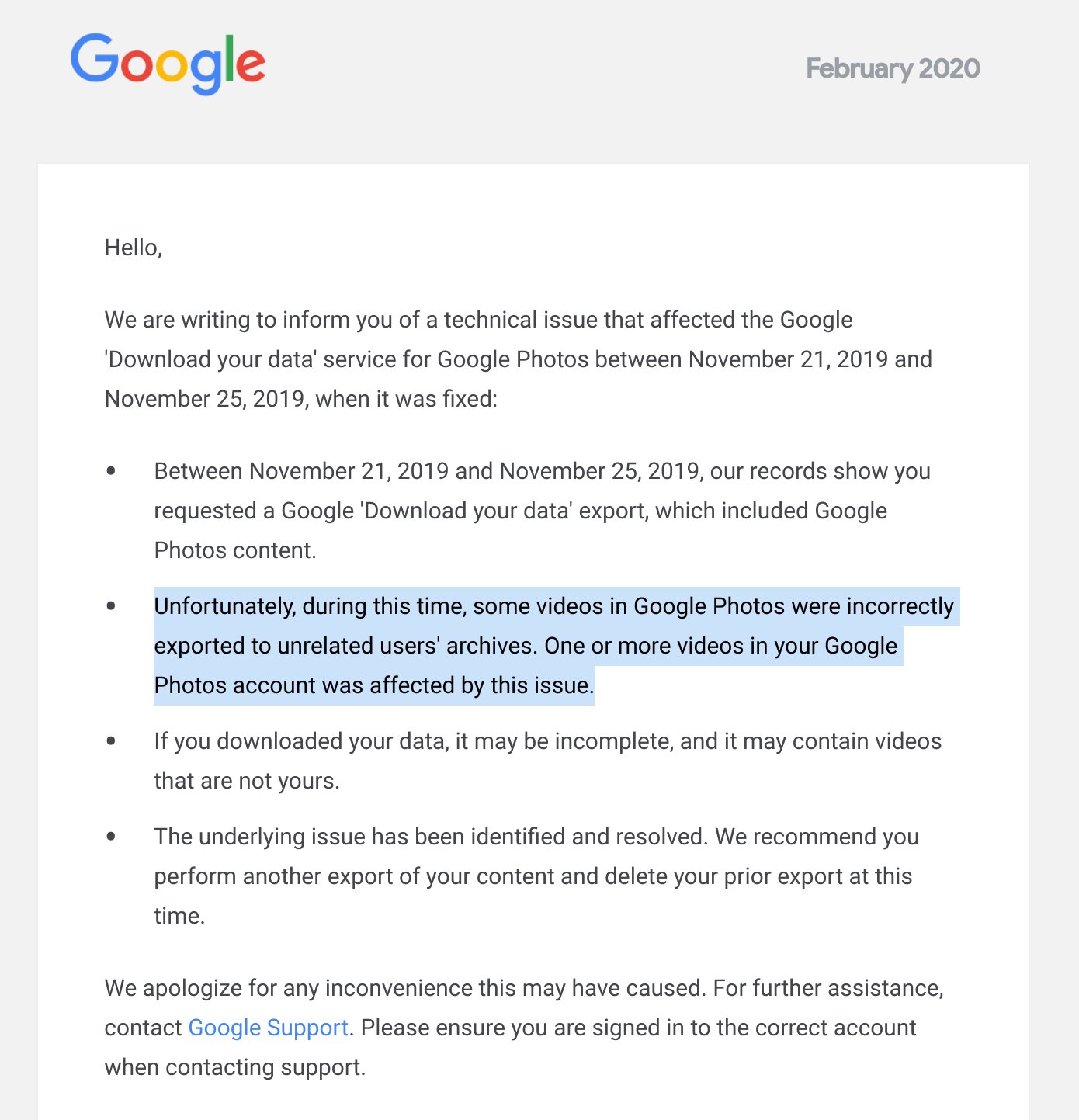 (Image credit: Google)
The notice (as Oberheide rightfully pointed out) was non-specific at best, and downright callous at worst—especially considering the sensitive intel that many of us keep in our photos and videos. A stranger getting their hands on an embarrassing America's Funniest Home Videos-style montage is one thing, but that same stranger getting their hands on clips of our most intimate moments is something else entirely, nobody likes to see private videos leaked by a trusted software.
Google assures users that the underlying issue has been identified and resolved and recommends that affected users perform another export of their data. It also tells users to delete the prior archive.
9to5Google obtained the following statement from the web giant:
"We are notifying people about a bug that may have affected users who used Google Takeout to export their Google Photos content between November 21 and November 25. These users may have received either an incomplete archive, or videos —not photos— that were not theirs. We fixed the underlying issue and have conducted an in-depth analysis to help prevent this from ever happening again. We are very sorry this happened."

For his part, Oberheide, who is a CTO, writes to his follower-base:
"To be clear, this is a big screw-up. I hope the number of affected parties is small, but the impact to those parties could be high… and very unsettling." Who wants to see their private videos leaked?
Under new data protection laws, Google may incur a substantial fine for this monumental cockup.
To clarify for our readers, if you haven't requested a download of your Google data between November 21, 2019 and November 25, 2019, you should not be affected, and your private videos did not get leaked out to other users.
What Google isn't telling us is how many people may have been affected or how many private videos may have been leaked, shared with the incorrect people.
Thank you for reading, think your friends might like this story about private videos getting leaked, then please do share.
You may also like to read these Top 10 Tips to stay safe online.