Safe January sales 10 tips for a safe online experience
January sales are upon us, and many people manage most bargain sales from the couch to avoid long queues, noise and stress. However, it is important to take precautions before you pay, warns AnyTech365 IoT Security Solutions.
Already, the January sales are well under way online.
Many online shoppers are eagerly waiting for the discounts to kick in in January when Christmas is over. But they are far from the only ones who do. The cybercriminals are also at the ready. However, the intention is not the same. The criminals make fake webshops and lure punters with attractive offer traps, only to get their fingers in private data like passwords, NemID, card and bank details.
With remembering these 10 rules for a safe January sale, you can safeguard from cyber criminals when you shop online.
IT security experts at AnyTech365 IoT Security Solutions give you tips on how to shop safely and thus ensure that the January sale is a positive experience.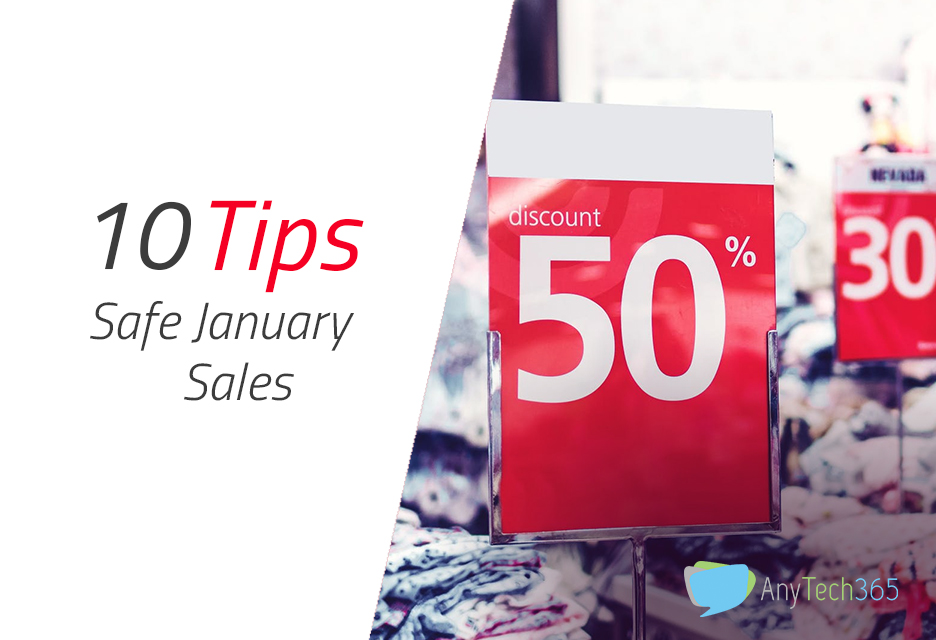 10 tips for a safe January sales experience
Avoid clicking links in emails when visiting a webshop. Manually enter the URL into the browser, so you are sure not to be redirected to the wrong shop via a fake link.
Look for the padlock icon in the browser, and check that the Internet address starts with HTTPS (the S stands for secure) to make sure the site is safe to visit. Also, look for other warranty labels, such as the e-mark, or other marks to assure secure internet commerce.
Check the webshop's contact information. Who is behind the webshop? Is there a telephone number, address, email address, CVR number, etc.? On many fake webshops, this information is non-existent and if you can't find it, then you should be wary.
You can save money by comparing prices before buying a product. If you do not want to look for the best deals on different websites, you can check prices on comparison sites such as PRONTO (Pronto.com) or NexTag (Nextag.com), so you are sure that you are buying at a good price during the January sales season.
Save all receipts, order confirmations, etc. in your inbox or print them out. The more documentation you have on your purchase, the better off you are if something goes wrong.
Read the terms carefully before paying. How long is the delivery time? How do you return an item? And is there an extra expense on shipping that makes your purchase much more expensive than you initially expected?
Always pay for your goods online by debit card. If you do not receive your goods, the bank can help you withdraw the money. Also consider using an additional security code, such as Verified by Visa or MasterCard Secure Code. This extra code protects you from online abuse if IT criminals get hold of your card.
Always make sure you have an updated antivirus and firewall software installed on your computer or smartphone before shopping online.
Remember that webshops in most countries have some guarantees, while foreign webshops have others. Check the terms again before paying. also look for specific January sales terms.
Last but not least, it is a good idea to be aware of extra high discounts. For a January sale, there is often good money to save, but keep your eyes open for webshops that promise 70-80% on expensive branded products like Ralph Lauren, Prada, Apple or similar. If a price seems too good to be true, it probably is more so during the January sales.
Hope you enjoyed reading up on how to keep the January sales a safe experience.
For more tips on how to shop safe online you may want to read back on Christmas shopping online safely.